Made from Hemp, Olive, Coconut and Other potent vegetable Oils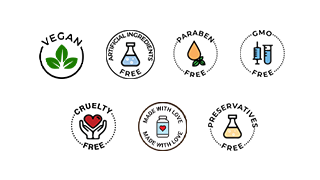 Regular price
Rs. 460.00
Sale price
Rs. 369.00
Unit price
per
Sale
Sold out
Introducing our premium quality Castile Soap, a must-have for anyone seeking a natural and eco-friendly alternative to conventional soaps. Our Castile Soap is made from a blend of 100% pure olive oil and hemp seed oil, which work together to provide a nourishing and moisturizing cleansing experience.
Hemp seed oil is rich in essential fatty acids and antioxidants, making it a perfect addition to our Castile Soap. It helps to soothe and hydrate the skin, while also providing a gentle and effective cleansing action.
Our Castile Soap is perfect for use on the body, face, and hair, making it a versatile addition to your daily routine. Its luxurious lather deeply cleanses, leaving your skin feeling soft, moisturized, and refreshed. Unlike many conventional soaps that strip the skin of its natural oils, our Castile Soap nourishes and protects, making it the perfect choice for daily use.
We are committed to sustainability and minimizing our impact on the planet, and our Castile Soap is just one example of our dedication to this cause. Our Castile Soap is biodegradable and made from natural and renewable resources, including the hemp seed oil that we use in our blend.
We are proud to offer our Castile Soap which can be paired with refreshing and invigorating scents, including lavender, peppermint, and citrus. Each scent is created using only natural essential oils, ensuring a pleasant and long-lasting aroma that will leave you feeling refreshed and energized.
In summary, our Castile Soap is a natural, gentle, and eco-friendly option for your daily cleansing needs, enriched with the nourishing benefits of hemp seed oil. Try it today and experience the difference for yourself!
Ingredients

Each 100ml Contains: Vegetable oils (Olive Oil Virgin, Coconut Oil, Hemp Oil, Jojoba Oil, Castor Oil, Palm Oil) (70%), Potassium Hydroxide (KOH) 10%**, Water 15%, Vegetable Glycerine 5%
**None remains after saponification
How to Use

Use 5-10ml and lather onto desired area or, check out the thousands of ways in which you can create your own custom shampoo with castile soap from the DIY banner link above.
Share
View full details