The most well-kept beauty secret of Mesopotamians is out now.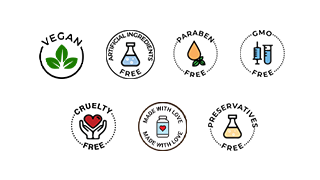 Regular price
Rs. 475.00
Sale price
Rs. 379.00
Unit price
per
Sale
Sold out
Introducing our high-quality kelp or seaweed powder, perfect for all your hair and skin needs! Sourced from the pristine waters of the ocean, this versatile powder is packed with nutrients and minerals that can transform your beauty routine.
For hair, our kelp or seaweed powder is a natural solution for those looking to achieve strong and healthy locks. Its high iodine content helps to strengthen hair follicles, preventing breakage and hair loss. Additionally, the powder's amino acids and vitamins nourish hair, leaving it feeling silky and smooth.
On the skin, our kelp or seaweed powder is a powerhouse ingredient that can help to rejuvenate and revitalize your complexion. Its anti-inflammatory properties make it perfect for soothing irritated or inflamed skin, while its high levels of antioxidants help to combat the signs of aging. The powder's natural exfoliating properties also gently slough away dead skin cells, revealing brighter, smoother skin.
Our kelp or seaweed powder is easy to use and can be incorporated into your existing beauty routine. Simply mix the powder with water or your favorite carrier oil to create a paste, and apply it to your hair or skin as desired. With regular use, you'll notice healthier, more radiant hair and skin!
Choose our kelp or seaweed powder today and experience the incredible benefits of this ocean-derived beauty secret.
How to Use

Add small amount in any face mask or face scrub and apply with help of water, milk or yoghurt, as you desire.
Share
View full details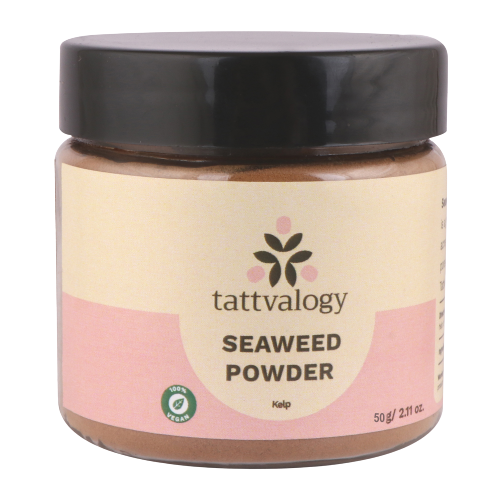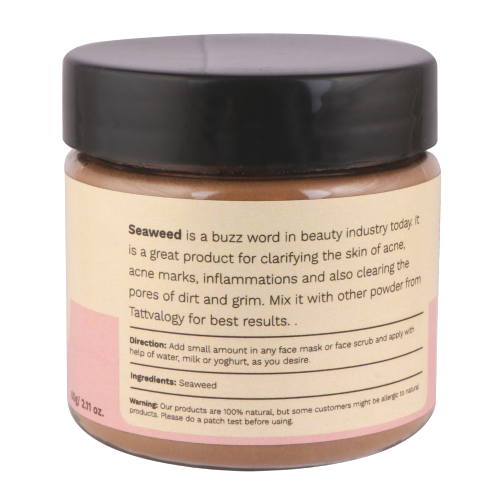 Kitna samay se apne face per rakhna hoga apply karne ke bad

Just let it dry for 10-15 minutes, and then wash off with normal water.