Steam Distilled. Therapeutic Grade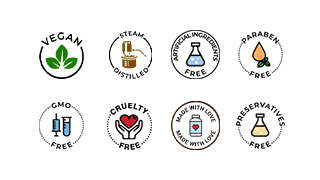 Regular price
Rs. 410.00
Sale price
Rs. 339.00
Unit price
per
Sale
Sold out
Introducing our premium quality Cinnamon Bark Essential Oil, perfect for all your aromatherapy, skin and hair care needs!
Derived from the bark of the Cinnamomum tree, our essential oil is carefully extracted using steam distillation, preserving its potent aroma and therapeutic benefits.
Aromatherapy: The warm and comforting scent of cinnamon bark essential oil can help uplift your mood and relieve stress and anxiety. It is also known to stimulate mental alertness and enhance concentration, making it a great choice for studying or working from home. Simply add a few drops to your diffuser or humidifier to enjoy its invigorating aroma.
Skin Care: Cinnamon bark essential oil is a natural antiseptic and antibacterial agent, making it an excellent choice for treating skin infections and acne. It also has astringent properties that can help tighten and firm skin, reducing the appearance of fine lines and wrinkles. Mix a few drops with a carrier oil like jojoba or almond oil and massage onto your skin for a rejuvenating and youthful glow.
Hair Care: Cinnamon bark essential oil is rich in antioxidants that can help stimulate hair growth and prevent hair loss. It also has antimicrobial properties that can help soothe an itchy scalp and reduce dandruff. Mix a few drops with your favorite carrier oil and massage onto your scalp and hair for a nourishing and revitalizing treatment.
Overall, our Cinnamon Bark Essential Oil is a versatile and powerful addition to your self-care routine, providing numerous benefits for your physical and mental health. Order yours today and experience the soothing and invigorating properties of this amazing oil!
Tattvalogy Cinnamon Bark Essential Oil are made from Steam Distilled process. 100% Pure and Natural. Therapeutic Grade Essential Oils. Carefully packed to give you highest quality of hygiene.
How to Use

Diffuse in a diffuser or other such tools, or add to hair and skin oils to increase their fragrance as well as therapeutic benefits. You can also add to carrier oils to make a massage oil. For more, check out the DIY banner above.
Share
View full details