Toner for Oily Skin, Natural Mosquito Repellent Body Spray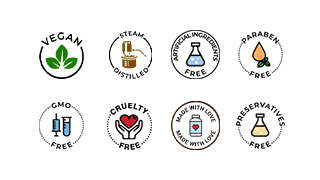 Regular price
Rs. 245.00
Sale price
Rs. 185.00
Unit price
per
Sale
Sold out
Hydrosols are a bye-product of the essential oil making process. At Nature's Tattva, we make sure that the hydrosols are prepared with the highest quality standards, the same standards used to make our award-winning essential oils.
What exactly are hydrosols and how are they different from plant concoctions made at home?
Hydrosol/steam distilled water is very concentrated because it takes at an average 2.4 kilo grams of the plant to produce 1 litre of steam distilled water. The process does not use water to make hydrosol, it rather uses steam to make the hydrosol. So, hydrosol has all the ingredients that the plant is supposed to have. And the concoction made at home is not that powerful as the plant parts are boiled in the water and there is no set/defined proportion of plant to water ratio to give the desired benefits. Also, during the boiling process many of the nutrients are evaporated while in steam distillation process there is no chance of evaporation of the nutrients.
Ingredients

Steam Distilled Hydrosol of Citronella plant

How to Use

Spray directly on face and other affected areas of the skin, or combine with other Natural Toners to create a unique toner for your specific skin type. For more, check out the DIY banner above.
Share
View full details