Steam Distilled. Therapeutic Grade.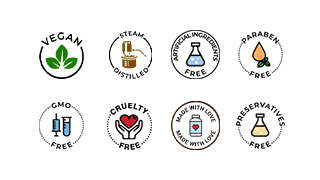 Regular price
Rs. 550.00
Sale price
Rs. 455.00
Unit price
per
Sale
Sold out
Introducing our premium quality Coffee Essential Oil, a must-have addition to your aromatherapy, skincare, and haircare routines. Our pure and natural Coffee Essential Oil is extracted from the beans of coffee plants using a steam distillation process, ensuring that it retains its natural fragrance and therapeutic properties.
In aromatherapy, our Coffee Essential Oil is known for its energizing and stimulating effects, making it a perfect choice for those looking for a natural way to uplift their mood and increase mental alertness. Its invigorating aroma can help you stay focused and productive throughout the day, while also reducing feelings of fatigue and lethargy.
Our Coffee Essential Oil is also excellent for skin and hair care. Its antioxidant properties help to protect the skin from damage caused by free radicals, reducing the appearance of fine lines, wrinkles, and dark spots. It can also help to improve the elasticity of the skin, giving it a more youthful and radiant appearance.
When used in hair care, our Coffee Essential Oil can help to stimulate hair growth and improve the overall health of your hair. Its natural caffeine content helps to increase blood flow to the scalp, promoting hair growth and preventing hair loss. It also helps to strengthen hair strands, making them more resistant to damage from heat styling tools and environmental stressors.
Overall, our Coffee Essential Oil is a versatile and valuable addition to any aromatherapy, skincare, and haircare routine. Its energizing and stimulating effects, coupled with its antioxidant and hair growth properties, make it a must-have product for those seeking to enhance their overall wellbeing and appearance naturally. Try it today and experience its amazing benefits for yourself!
Tattvalogy Coffee Essential Oil are made from Steam Distilled process. 100% Pure and Natural. Therapeutic Grade Essential Oils. Carefully packed to give you highest quality of hygiene.
How to Use

Diffuse in a diffuser or other such tools, or add to hair and skin oils to increase their fragrance as well as therapeutic benefits. You can also add to carrier oils to make a massage oil. For more, check out the DIY banner above.
Share
View full details