Steam Distilled. Detoxifies the skin. High in antioxidants.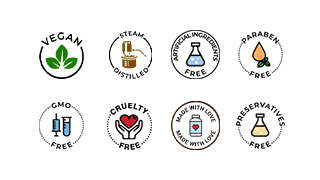 Regular price
Rs. 245.00
Sale price
Rs. 185.00
Unit price
per
Sale
Sold out
Introducing our all-natural Green Tea Hydrosol - a powerful and refreshing addition to your skincare and haircare routine! Made from the finest green tea leaves, our hydrosol is a versatile product that offers numerous benefits for both your hair and skin.
For your skin, our Green Tea Hydrosol acts as a natural toner, helping to balance and restore the pH of your skin. It's also packed with antioxidants that protect your skin from environmental stressors and prevent signs of aging such as fine lines and wrinkles. Additionally, its anti-inflammatory properties make it great for reducing redness and irritation, making it suitable for those with sensitive skin.
When it comes to hair, our Green Tea Hydrosol is a game-changer. It contains caffeine which stimulates hair growth and strengthens hair follicles, resulting in healthier and stronger hair. It also helps to reduce scalp inflammation and dandruff, leaving your scalp feeling soothed and refreshed. And if you're dealing with oily hair, our hydrosol is great for regulating oil production and keeping your hair looking fresh and clean.
Our Green Tea Hydrosol is 100% natural and free of any harmful chemicals or preservatives. To use, simply spritz it onto your face, hair, or body for a refreshing and revitalizing experience. Add it to your daily routine and see the difference it makes for your hair and skin!
Ingredients

Steam Distilled Hydrosol of Organic Green Tea

How to Use

Spray directly on face and other affected areas of the skin, or combine with other Natural Toners to create a unique toner for your specific skin type. For more, check out the DIY banner above.
Share
View full details