Steam Distilled. Made from Kashmiri Lavender. Maintains the pH of the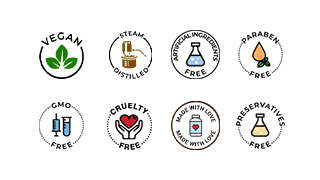 Regular price
Rs. 245.00
Sale price
Rs. 185.00
Unit price
per
Sale
Sold out
Introducing our premium quality Lavender Hydrosol, a versatile and all-natural product that's perfect for your hair and skin.
Lavender Hydrosol is a pure and gentle floral water produced through the steam distillation of fresh lavender flowers. This therapeutic-grade hydrosol is known for its soothing and calming properties, making it an ideal addition to your skincare and haircare routine.
For the skin, Lavender Hydrosol works wonders in restoring balance and promoting a youthful complexion. Its antibacterial and antiseptic properties help to cleanse and purify the skin, reducing inflammation and redness. It also acts as a natural toner, tightening and minimizing pores, and providing a refreshing and revitalizing effect. The gentle floral aroma of Lavender Hydrosol is known to help calm the mind and reduce stress levels, making it an excellent addition to your skincare routine.
For the hair, Lavender Hydrosol helps to nourish and strengthen hair follicles, promoting healthy hair growth. Its antibacterial properties help to keep the scalp clean and healthy, reducing dandruff and hair fall. It also conditions and adds shine to the hair, making it soft and manageable. The soothing aroma of Lavender Hydrosol helps to relax and calm the mind, making it a perfect addition to your haircare routine.
Our Lavender Hydrosol is 100% natural, vegan, and cruelty-free, making it a safe and ethical choice for your skincare and haircare needs. Try it today and experience the wonderful benefits of Lavender Hydrosol for yourself!
Ingredients

Steam Distilled Hydrosol of Lavender flower

How to Use

Spray directly on face and other affected areas of the skin, or combine with other Natural Toners to create a unique toner for your specific skin type. For more, check out the DIY banner above.

Share
View full details