Reduces Skin Pigmentation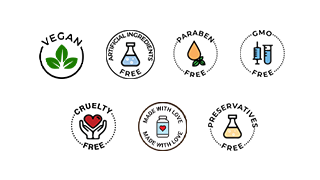 Regular price
Rs. 280.00
Sale price
Rs. 209.00
Unit price
per
Sale
Sold out
Introducing our Licorice Powder, also known as Mulethi Powder, the natural ingredient that your skin has been craving for! This powder is packed with numerous benefits that make it a must-have in your skincare routine.
Licorice powder is derived from the root of the Licorice plant and is rich in antioxidants, anti-inflammatory, and antimicrobial properties. It has been used for centuries in Ayurvedic medicine to treat various skin problems. Now, it's time to unleash its power onto your skin.
This powder is suitable for all skin types and can be used in a variety of ways. Its main benefit is its ability to brighten and even out skin tone. Licorice powder contains a compound called glabridin, which inhibits the production of melanin, the pigment that gives our skin its color. This makes it an excellent ingredient to combat hyperpigmentation, dark spots, and sun damage.
Licorice powder is also great for soothing irritated and inflamed skin. Its anti-inflammatory properties help to reduce redness, swelling, and itchiness caused by skin conditions such as eczema, psoriasis, and rosacea.
This powder also has antimicrobial properties, making it an effective ingredient in fighting acne-causing bacteria. It helps to unclog pores, reduce oil production, and prevent further breakouts.
To use, simply mix a small amount of Licorice powder with water or your favorite carrier oil to create a paste. Apply to the skin and let it sit for 10-15 minutes before rinsing off with lukewarm water. For best results, use 2-3 times a week.
In conclusion, Licorice Powder is an excellent addition to your skincare routine that will help you achieve brighter, even-toned, and healthier-looking skin. Its antioxidant, anti-inflammatory, and antimicrobial properties make it a powerful ingredient that delivers results. Try it out for yourself and experience the wonders of Licorice Powder!
How to Use

Add water and make a paste and apply on the face and hair in circular motion. Let it sit for 20-25 minutes and then wash off with water. You can also combine more than one clay or herbal powders to create a custom face or hair pack for yourself. For more, check out the DIY banner above.

Share
View full details