A Rhassoul or Ghassoul clay, which is high in iron and therefore great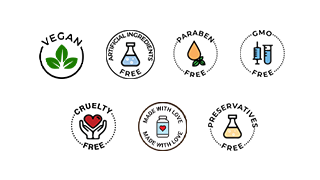 Regular price
Rs. 345.00
Sale price
Rs. 279.00
Unit price
per
Sale
Sold out
Looking for a natural way to take care of your hair and skin? Red Rhassoul Clay is a must-have product for anyone looking to maintain healthy hair and skin. This amazing product is a natural mineral clay that has been used for centuries in North Africa for its numerous benefits. Here are some of the benefits of Red Rhassoul Clay for your hair and skin:
Reduces Oiliness: Red Rhassoul Clay has natural absorbent properties that help to remove excess oil from your skin and scalp. This makes it an excellent product for anyone with oily skin or hair.

Unclogs Pores: The clay is also effective at removing impurities and unclogging pores. This helps to prevent blackheads and other skin blemishes.

Gently Exfoliates: Red Rhassoul Clay is a natural exfoliant, which means it gently removes dead skin cells and helps to reveal brighter, more radiant skin.

Moisturizes: Unlike other clay products, Red Rhassoul Clay does not strip your skin and hair of its natural oils. Instead, it helps to moisturize and nourish your skin and hair, leaving it feeling soft and supple.

Conditions Hair: Red Rhassoul Clay is also great for conditioning hair. It helps to detangle hair, improve hair elasticity and reduce hair breakage.
To use Red Rhassoul Clay for your skin, simply mix the clay with water or your favorite natural oil to create a paste. Apply the paste to your face and body, leave it on for 10-15 minutes, then rinse off with warm water.
To use Red Rhassoul Clay for your hair, mix the clay with water to create a paste, then apply it to your hair and scalp. Leave it on for 15-20 minutes, then rinse thoroughly with warm water.
In summary, Red Rhassoul Clay is a versatile, natural product that can be used to improve the health and appearance of your hair and skin. Try it today and see the amazing results for yourself!
Tattvalogy Moroccan Rhassoul Clay comes from Morocco and is rich in Hemotite Iron. The clay is rich in kaolinite, illite, montmorillonitea and calcite and is best suited for normal to oily skin types. Benefits: Rhassoul Red Clay cleanses, detoxifies and exfoliates the skin, leaving it refreshed,toned and rejuvenated.
Ingredients

Powder of red rhassoul clay

How to Use

Add water and make a paste and apply on the face and hair in circular motion. Let it sit for 20-25 minutes and then wash off with water. You can also combine more than one clay or herbal powders to create a custom face or hair pack for yourself. For more, check out the DIY banner above.

Share
View full details