Made from Volcanic ash, this clay is perfect for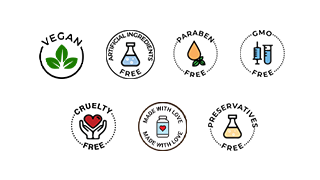 Regular price
Rs. 310.00
Sale price
Rs. 209.00
Unit price
per
Sale
Sold out
Introducing our pure and natural Bentonite Clay, the perfect addition to your skincare and hair care routine. Sourced from ancient volcanic ash, our Bentonite Clay is packed with minerals that work wonders on your skin and hair.
This versatile clay has been used for centuries to detoxify and purify the skin, making it a great addition to any skincare routine. Its natural properties help to draw out impurities, unclog pores and exfoliate dead skin cells. Regular use of Bentonite Clay can help reduce the appearance of blemishes, fine lines and wrinkles, leaving your skin looking smoother, brighter and more youthful.
But that's not all - our Bentonite Clay is also great for your hair! It can help to cleanse the scalp, remove excess oil and impurities, and promote healthy hair growth. The minerals in the clay help to strengthen the hair follicles, making your hair look and feel thicker and more voluminous.
To use our Bentonite Clay, simply mix with water or apple cider vinegar to create a smooth paste, apply to your skin or hair, and leave for 10-15 minutes before rinsing off. It's gentle enough for all skin types, and can be used as a spot treatment for blemishes or as a full-face mask for a deep cleanse.
Invest in your skin and hair health with our pure and natural Bentonite Clay.
How to Use

Add water and make a paste and apply on the face and hair in circular motion. Let it sit for 20-25 minutes and then wash off with water. You can also combine more than one clay or herbal powders to create a custom face or hair pack for yourself. For more, check out the DIY banner above.

Share
View full details