A kaolin clay variety which gets its natural pink color from the iron.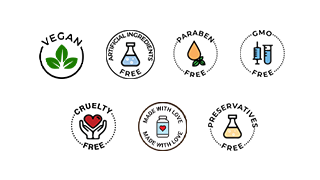 Regular price
Rs. 235.00
Sale price
Rs. 189.00
Unit price
per
Sale
Sold out
Introducing our Pink Kaolin Clay, the ultimate solution for healthy and radiant skin and hair! Sourced from the mineral-rich regions of Gujarat, in India, this premium quality clay is a beauty game-changer.
With its delicate pink hue, Pink Kaolin Clay is perfect for all skin types, including sensitive and dry skin. This luxurious clay gently cleanses and detoxifies the skin, leaving it smooth, refreshed, and glowing. It deeply nourishes the skin by removing impurities, excess oil, and dirt, unclogging pores and improving skin texture. It also helps to even out skin tone and reduce the appearance of fine lines and wrinkles, leaving you with a youthful, radiant complexion.
But that's not all - Pink Kaolin Clay is also a powerful hair care ingredient! It helps to balance the scalp's natural oils, promoting healthy hair growth and reducing dandruff and hair loss. It also helps to strengthen hair follicles, prevent breakage, and protect against environmental damage. With its natural cleansing and conditioning properties, Pink Kaolin Clay is perfect for maintaining healthy, shiny, and voluminous hair.
Our Pink Kaolin Clay is 100% natural and free from harmful chemicals, making it safe and gentle for everyday use. Whether you're looking to pamper your skin or give your hair a boost, our Pink Kaolin Clay is the perfect addition to your beauty routine. Try it today and see the difference for yourself!
| Benefits for Skin Care | Benefits for Hair Care |
| --- | --- |
| Gentle Exfoliation | Cleanses Scalp |
| Detoxifies Skin | Removes Excess Oil |
| Improves Skin Texture | Adds Natural Shine |
| Tightens Pores | Softens and Conditions Hair |
| Reduces Redness | Reduces Frizz |
| Nourishes and Hydrates | Promotes Hair Growth |
| Soothes Irritation | Natural Hair Cleanser |
| Radiant Complexion | Enhances Hair Manageability |
How to Use

Add water and make a paste and apply on the face and hair in circular motion. Let it sit for 20-25 minutes and then wash off with water. You can also combine more than one clay or herbal powders to create a custom face or hair pack for yourself. For more, check out the DIY banner above.

Share
View full details