Natural Tonic for the Hair. Strengthens and Helps in Re-growth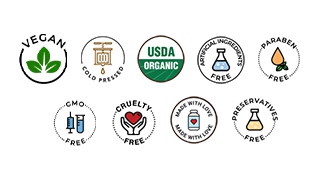 Regular price
Rs. 280.00
Sale price
Rs. 249.00
Unit price
per
Sale
Sold out
Black Seed Oil is known remedy for many skin and hair disorders. Some of them are:
Deep Cleanses Pores
Have you heard of the oil cleansing method of washing the face? Basically, it entails using oils to cleanse the skin without any harsh soaps & cleansers. Organic oils used in the oil cleansing method are known to drive out stale oils that have accumulated deep inside the pores and thereby cause acne, whiteheads and blackheads. To use black seed oil to cleanse your face, simply fill a 2 oz small mason halfway through with olive oil. Add one teaspoon of black seed oil and 4 to 6 drops of tea tree essential oil. Mix well. Every time you're going to wash your face, massage a little of this mixture onto your face then dab a hot damp washcloth to allow the oils to penetrate deep. After 5 minutes, rinse your face and wipe/ pat dry with a clean towel.
Moisturizes & Softens Skin
Black seed oil is an excellent emollient which moisturizes dry, flaky and chapped skin. It softens and makes it look smooth and supple. In a small mason jar, mix 30-60 ml of coconut oil with 2-4 teaspoons of organic black seed oil. Apply just a little of this on your dry areas to moisturize. Using this mixture as an overnight treatment is ideal.
Delays wrinkles & fine lines
Black seed oil has powerful antioxidant properties that ward off free radicals that damage skin cells by stealing oxygen molecules. This makes the skin cells dull and lifeless, thus forming wrinkles and fine lines. Although some people find it okay to use black seed oil 'neat' onto their skin without mixing it in another oil, people with sensitive skin should first mix it with a carrier oil before use (preferable Organic Jojoba Oil).
Promotes re-growth of bald patches
Many people claim to have re- grown bald patches and fixed hair loss issues using black seed oil! It contains as many as 100 valuable nutrients including calcium, protein, potassium, zinc, vitamins and essential fatty acids that will boost hair growth. Black seed oil is all natural so it doesn't hurt to try!
Conditions, softens hair
Use black seed oil to soften and condition all hair types including frizzy wild curls. Black seed all nourishes the hair strands by penetrating deep into hair cells, thereby softening them and making them more manageable. For softer locks, apply 1 to 2 teaspoons of black seed oil to your freshly-washed hair strands and leave it on for about 15 to 30 minutes. Rinse off with plain water and dry thoroughly.
How to Use

Apply directly to skin or hair as required or combine with other oils and essential oils to create a unique product for yourself. Click the DIY banner above to explore more.

Share
View full details