An oil which is closest in nature to the natural oils/sebum of our bod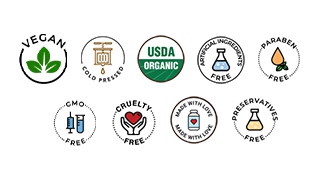 Regular price
Rs. 290.00
Sale price
Rs. 235.00
Unit price
per
Sale
Sold out
Jojoba Carrier Oil:-
Skin moisturizer
Being a waxy substance, Jojoba oil can seal in the moisture and create an effective barrier to external elements. It is so structurally close to the secretion of the sebaceous glands in the skin that it is readily accepted and tolerated. You can rub a few drops of Jojoba oil between your palms and apply it on the face and other exposed parts whenever you venture out and after washing your face every time. For a deeper moisturizing effect, warm up a spoonful of Jojoba oil and massage it in after washing the face at bedtime and leave it on overnight. Pure Jojoba oil is fully absorbed into the skin, leaving it feeling soft and smooth.; To control oily skin: If you're troubled by oily scalp or trying hard to mask your shiny forehead and nose under layers of makeup, rubbing in Jojoba oil on the affected parts will give wonderful results. It is counter-intuitive to use this oil, or any oil for that matter, on oily skin, but surprisingly Jojoba oil can help reduce oiliness. This is by modulating the sebum production.
For dry and frizzy hair
Applying Jojoba oil to dry and frizzy hair can help moisturize and condition the hair, making it more manageable and tangle free. Apply the oil to the hair before wash or along with shampoo. This prevents the shampoo from stripping off the natural oil in the hair. You can also apply some Jojoba oil when the hair is still damp from a hair wash. The oil can form a thin waxy coating on each hair shaft, protecting it from the dust and dryness.
How to Use

Apply directly to skin or hair as required or combine with other oils and essential oils to create a unique product for yourself. Click the DIY banner above to explore more.

Share
View full details
Van jojoba oil n shea butter mixed and used for crack heal

Yes. Shea butter is extremely hydrating, and along with Jojoba, makes for an effective crack cream. Add in 2:1 ratio. 2 parts Shea butter with 1 part jojoba oil.