Steam Distilled. Therapeutic Grade.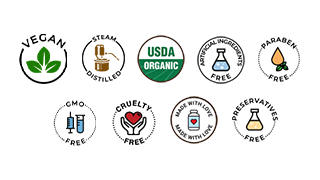 Regular price
Rs. 475.00
Sale price
Rs. 379.00
Unit price
per
Sale
Sold out
Introducing our 100% pure and natural Tea Tree Essential Oil, a powerful natural and organic remedy for a wide range of skincare and haircare concerns. Our high-quality oil is extracted from the leaves of the Melaleuca Alternifolia plant, which is native to Australia and has been used for centuries for its medicinal properties.
Tea Tree Essential Oil has gained immense popularity in recent years due to its incredible ability to reduce acne and other skin concerns. This oil is highly effective in killing acne-causing bacteria and reducing inflammation, making it a great addition to any skincare routine. Its antifungal and antibacterial properties also make it an excellent option for treating other skin conditions such as eczema, psoriasis, and fungal infections.
Not only does Tea Tree Essential Oil work wonders for the skin, but it also has numerous benefits for the hair. The oil's antifungal properties make it a great natural remedy for dandruff and other scalp irritations. It also helps to unclog hair follicles, promoting healthy hair growth and preventing hair loss.
Other benefits of our Tea Tree Essential Oil include its ability to relieve sore muscles and joint pain, soothe insect bites and stings, and improve respiratory health. Its refreshing and invigorating scent also makes it an excellent option for aromatherapy, promoting relaxation and reducing stress.
At our company, we take pride in providing our customers with only the highest quality essential oils. Our Tea Tree Essential Oil is 100% pure and natural, free from any additives or preservatives, ensuring that you are getting the most potent and effective oil possible. So why wait? Add our Tea Tree Essential Oil to your daily routine today and experience the many benefits it has to offer!
How to Use

Diffuse in a diffuser or other such tools, or add to hair and skin oils to increase their fragrance as well as therapeutic benefits. You can also add to carrier oils to make a massage oil. For more, check out the DIY banner above.

Share
View full details