For Skin & Hair, Cold Pressed from Kerala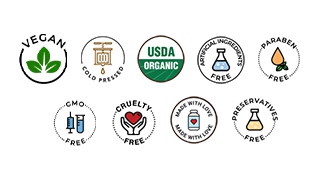 Regular price
Rs. 320.00
Sale price
Rs. 259.00
Unit price
per
Sale
Sold out
Virgin Certified Organic Coconut Oil for Skin: 
1. Is there anything this miracle oil can't do? It's hard to tell. This oil has been used since centuries in Asian countries. It helps in skin cleansing and moisturizing. Unlike any normal moisturizing lotions that contain water, this natural moisturizer provides moisture to your skin.
2. It removes dead cells and strengthens the tissues present underneath the skin.
3. It is also known to be a great wound healer. People in Panama apply this on their infected areas or even drink a pint size amount of this oil to relieve them from infection and to induce fast recovery. All you have to do is apply it on the affected area of the skin.
4. When used in massaging the skin with other creams or lotions, it can be very helpful and control dry rashes of the skin, or dry skin problems. It can also be used to control and treat eczema, psoriasis and other skin problems.
Virgin Coconut Oil for Hair:
5. Want to bring a shiny appearance for your hair? Look no more, extra virgin coconut oil does just that. It moisturizes your hair and cleans your scalp.
6. Virgin coconut oil helps to strengthen the roots of hair. Massage a little bit of coconut oil before shampooing. This will help you get tangle free hair afterwards. You can do a hot oil massage with virgin coconut oil for shiny and strong hair. It will also help you with hair growth.
Other Benefits of Virgin Coconut Oil
7. Helps In Healing Wounds
Minor cuts and wounds can be treated with Virgin coconut oil
8.  Helps Get Rid Of Stretch Marks:
Stretch marks can be formed not just due to pregnancy but also due to excess weight gains or weight loss. In any situation, virgin coconut oil can help you get rid of stretch marks with regular massaging on that area. In most Asian countries, this is a great remedy to get rid of stretch marks.
9. Treats Eczema
Coconut oil is known to treat eczema and other skin issues.
How to Use

Apply directly to skin or hair as required or combine with other oils and essential oils to create a unique product for yourself. Click the DIY banner above to explore more.

Share
View full details